Below are various mysteries I have run across in my research. If you have any information which might help me out in solving these, please get in contact with me.

Several of these mysteries have been solved - click on the UPDATE for more information.


The Mystery of the Missing Hoey UPDATE
My Great Grandfather, Nicholas Hoey, emigrated from Ireland around 1873 with his brother and sister. The story I was told as a child was that when they arrived in the United States, the sister was unable to disembark with her brothers. It is not known how long she was held in quarantine, however it was long enough for her brothers to decide to continue without her. Apparently, from family legend, it was several years before she saw her brothers again. What is known is that she eventually settled in Port Chester, NY. At the time, Port Chester was a small village but had a substantial Irish population. She may have settled there with relatives.

She married, however her married name is unknown. An Aunt remembers hearing from some of the descendants who had ended up in Pittsburgh, however she does not remember their names.

So far, I have had no success in tracking down her descendants.

The Mystery of the Rochester Donohoe's UPDATE
My Great Grandmother, Mary Agnes Donohoe, left Ireland around 1883. Apparently she did not get along with her step-mother. She came to Pittsburgh, where she married Michael Donahue around 1889. Several of Mary's brothers also came to the States, although it is not known if they came before or after her. Only one of the brothers remained in the US, where he settled in Rochester, NY.

My Aunt recalls visiting the wife of this man. A daughter and grandchildren also lived with her and the daughter may have worked at Kodak.

Other then this information, nothing else is known.

The Mystery of Louis Weet's Sisters UPDATE
In 1881 Ludwig Witkofsky aka Louis Weet emigrated from Metzenseifen, Austria-Hungary to Pittsburgh, PA. He was 21 years old at the time. Louis had two sisters, Martha and Mary who also came over, although it is not known exactly when they emigrated.

Mary married and had four children: Emma, Andrew, Anna and Rose. Her married name is unknown, so the children and any descendants have become "lost".

Martha also married and had six children. Unfortunately, neither her husbands surname or her children's names are known.

The Mystery of Jacob Zoerb's Sister UPDATE
According to family information, when Jacob Zoerb emigrated to the United States, he stayed with his sister. Her married name is unknown and she is not mentioned in Jacob's obituary. She had presumably died by 1959.

Nothing further is known about her.

The Mystery of Phillip Ialenti's Siblings
Phillip Ialenti emigrated with his parents and siblings in 1898. Although I know their names, very little information is known about his siblings:


Clementine Ialenti married to Joseph Stelute.
Philomena Ialenti married to Joseph Frechione and John Bernard Tresca. UPDATE
Carmel Ialenti married to a man with the surname SIMEONE.
Joseph Ialenti married to Rose.
Mary Ialenti married to Frank Nuzzo.
James Ialenti married to Jenny.

The Unknown Cleveland Relatives UPDATE
In July 1920 my Grandmother, Julianna Stark, traveled to Cleveland to visit relatives. While there she was at the silver anniversary celebration of "Aunt Theresa and Uncle John". She took several pictures of the family including a large group shot. None of these relatives have been identified as of yet. Click on the pictures below to see the full size version. If you can identify any of these people, please let me know.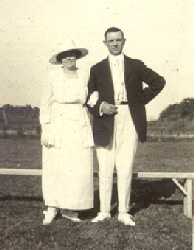 "Aunt Theresa and Uncle John"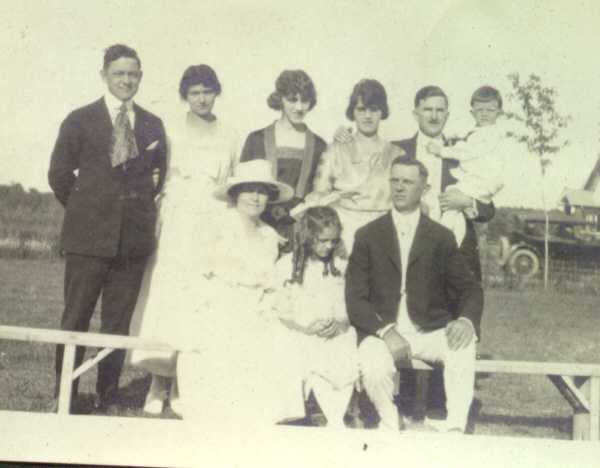 Taken in Cleveland, 1920 - Unknown Family

Taken in Cleveland, 1920 - Unknown Family

Another picture from the album was captioned "Some Cleveland Boys" - if you know them let me know.UPDATE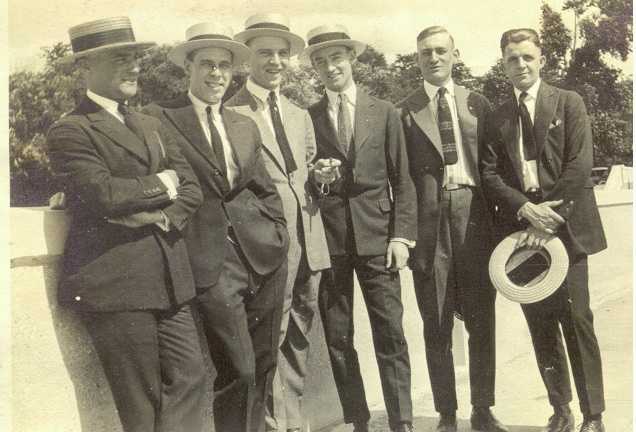 "Some Cleveland Boys"

The Missing Gangbusters Episode
My Grandfather, James Hoey, was a policeman in the city of Pittsburgh from April 1905 until August 1932, the last four years as Inspector. One of the cases that he worked on was dramatized on the radio show Gangbusters. The only information that my father and Aunts remember is that during the climax of the episode, the police apprehended the suspect by stopping a passenger train. They also believe that the episode in question came early in the history of Gangbusters.

I have tracked down one episode of Gangbusters set in Pittsburgh titled Matthew Cazzera which aired in November of 1945, however this episode is not the correct one.

If you have any information about this episode or any hints as to where I might find a copy, please contact me.