Welcome to the Hoey Family Genealogy Site.

My name is Thomas Hoey and I have been interested in my family roots since 1993. As a child, I remember hearing stories about my Grandfather, James Hoey. My Mother's family held annual reunions, as well. However, like most children, I wasn't particularly interested in learning more. When I married and had children of my own, I decided to work on the family tree as a project for them. With the help of many people I have been able to gather the information contained on this web site.

For information on my Father's family go to Irish Roots. My Mother's family came from a small town in what was then Austria-Hungary called Metzenseifen (although my Grandmother always considered herself German.) For information on this side of the family, go to Metzenseifen Roots.

My wife's paternal ancestors came from the small town of Campolieto in the Campobasso province of Italy. For this branch go to Italian Roots. Her maternal ancestors came from various places in Germany and settled in the town of McKeesport, PA: German Roots.

As with most genealogy projects, I have run into some dead ends. This information can be found at The Hoey Family Mysteries. Feel free to help me break down a few brick walls.

This site is dedicated to my children. I hope some day they will find an interest in their ancestors and look back on them with the same pride that I do - they were fascinating people.

If you see something that interests you or if you would like further information on any particular branch of the family, please let me know. If you have more information about a branch of the family tree or photos you would like to share, please contact me.

Please check back soon.





No information on living people is included on this site.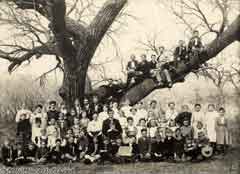 Last Updated 10 January 2020. Click here to see what's new.